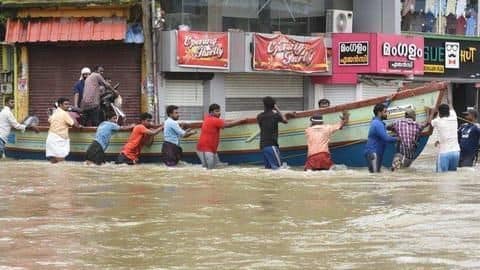 The condition

Over 324 dead, 36 missing, since rains swept Kerala
The state is hit by its worst flood in nearly 80 years. From August 1 to August 17, Kerala received 170% more rain than normal.
Subsequent landslides and overflowing rivers brought the state to a standstill.
More than 324 people have lost their lives, 36 are missing and around 6.61 lakh have been living in 3,466 relief camps across the state.
Rescue

Thousands rescued by NDRF teams in their biggest rescue-operation ever
NDRF teams along with Army, Navy and coast guards, are involved in massive rescue operations.
Thousands were rescued from remote areas of Changannur and Kuttanad, which were hit after Vembanadu Lake and Pampa river overflowed. But there are still many more who remained marooned without food, water and medicines.
NDRF has deployed 58 teams (55 are working on ground) for its biggest-ever rescue operation.
Aid

PM Modi announces Rs. 500 crore for relief fund
He announced Rs. 500 crore for relief aid. Earlier, Union Minister Rajnath Singh had announced Rs. 100 crore for the state.
The PM also said Rs. 2 lakh will be given to kin of deceased, and Rs. 50,000 to severely injured from Prime Minister's National Relief Fund (PMNRF).
Support

States help Kerala in hour of need
Delhi CM Arvind Kejriwal announced that he will give Rs. 10 crore, and the ministers of the AAP will donate their one month salary for the state.
Capt. Amarinder Singh, Manohar Lal Khattar, and Vasundhra Raje gave Rs. 10 crore each for aid. Telangana CM KCR announced Rs. 25 crore.
All elected representatives of the Congress will give their one-month salary towards relief efforts.
CM relief fund

Here's how you can stand with Kerala now
You can also transfer money in banks to the Chief Minister's Distress Relief Funds. The SBI account number is 67319948232 and IFSC Code is SBIN0070028. The branch is City Branch, Thiruvananthapuram and PAN number is AAAGD0584M.